When asked during a television interview "How do you do magic with horses?" Chris Irwin replied, "I don't do magic with horses, horses have done magic with me."
Chris Irwin is much more than just a horse trainer. His unique path in life of turning tragedies into triumphs has led him to become a truly gifted communicator. Now, as a cutting-edge personal coach, Chris inspires and facilitates his students to learn how to harness their inner horsepower through ongoing workshops in Equine Assisted Personal Development. From corporate leadership workshops to parenting and teaching skills, mentoring for disadvantaged youth, therapeutic programs and even the prison system, the scope and impact of Chris' message on how "horse sense can benefit human potential" is reaching far beyond the borders of the horse industry. As the San Diego Union-Tribune wrote, "Forget Robert Redford and The Horse Whisperer. With Chris Irwin, think Dr. Phil for horses. Better yet, think Dr. Phil for horse owners and riders." Or as the Toronto Star wrote, "Chris Irwin is a man on a mission — to change the way we communicate with each other, one horse at a time."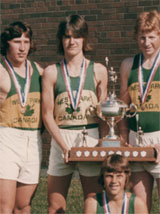 Surprisingly, Chris Irwin was not raised with horses. Growing up as a city kid in a highly dysfunctional family and dangerous neighborhood near Toronto, Chris reacted to his disillusioning environments with a driving obsession for excellence — first as a decorated Eagle Scout, then as an award-winning guitarist. In high school, Chris channeled his passion for perfection into competitive sports, winning one of the most prestigious honors in international rowing, the Royal Canadian Henley, at the age of 15. Likewise, in track and field, Chris smashed regional and provincial records in cross-country endurance events. "My parents were always telling me I was good for nothing," Chris recalls with a wry smile. "I was out to prove them wrong." After high school, Chris went "searching" for more than just a job. He wanted no less than a career that offered a sense of purpose and meaning in life. His vision quest led him to Longacres Racetrack in Seattle when he was 19. It was there, immersed in life with the Thoroughbred horses, that he realized his calling.
The sobering realities of a racetrack education taught Chris that the bond between horse and human left much to be desired. So he struck out on his own, determined to find his own way from the only teachers he could truly believe in — the horses themselves. His passion for exploring every aspect of horsemanship then drew him to the lost art of training and driving draft horse teams, where he became a highly respected "teamster," followed by the adrenaline-charged competition of combined driving. By his early thirties, Chris achieved 18 U.S. National Championships in both riding and driving events with Nevada's wild Mustangs — arguably the most difficult horses to train in any capacity. The horse world sat up and took notice. By then, he was known as the guy who could turn around last-chance horses, a reputation that soon evolved into clinics aimed at resolving "behavior problems," including even the most challenging and competitive horses showing in the highest levels of dressage and jumping.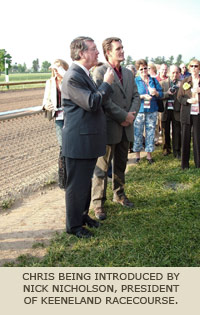 Now, after 30 years of wisdom gleaned from his dedication to the well-being of the horse, Chris Irwin's evolutionary approach to horsemanship is becoming mainstream.  "Horse's Don't Lie," Chris' first book released in 1998, became an instant bestseller in both Canada and the U.S., and has now been published in the U.K., Holland, Spain, Finland, and the Czech Republic.  His latest book, "Dancing With Your Dark Horse," published in 2005, is available in Canada, the U.S. and the U.K.
Chris' methods have been highlighted on television shows such as Canada A.M., The Discovery Channel, Mustang: America's Wild Horse, and PBS.  Chris is also a widely read columnist, has produced an acclaimed Training DVD Library, and plays a leading educational role with innovative programs such as the U.S. Government's Wild Mustang Adoption Program and the Maker's Mark Secretariat Center in Lexington, Kentucky.
Chris has lectured at Universities and presented at prestigious horse shows and equine expositions in North America such as Spruce Meadows, Equine Affaire, Equitana, The World and U.S. Pony Club Conferences, the Equine Canada National Conference, The Royal Winter Fair and Keeneland Race Course.  He also appears as a featured clinician at European horse expos: NH Dag in Arnhem, Holland, and the Equistyle Event in Brussels, Belgium.  An internationally renowned equestrian coach with a focus on training trainers, Chris offers his highly successful Train The Trainer Certification Program across North America, Holland and Ireland.
Chris Irwin has now developed his own equestrian center on his 100-acre property, Riversong Ranch, located in Alberta on a wild and scenic river between the Canadian Rockies and Edmonton.