You know you love your horse.  But does your horse love you?   Chris Irwin's evolutionary methodology – learning to think horse, speak horse, and play horse games by horse rules to be the better horse – teaches people how to develop a deep bond between themselves and their horse.  Which just may be the key to your horse loving you back!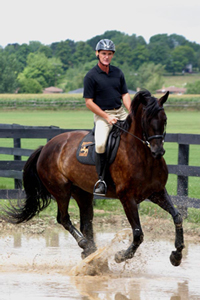 There is a growing awareness among equestrians that there is much more to horsemanship than just riding.  Chris Irwin has spent 30 years developing an approach with horses that addresses this missing link:  learning to speak a horse's body language so well that we truly"hear" how they feel about being handled and ridden, then developing the skills to give a horse what it needs so that he or she will happily give us what we want – a solid connection that engenders a willingness to enjoy safe, comfortable, relaxed rides wherever we wish to go.
Such a relationship, however, is not second nature.  Chris shows us that we need to be open to change.  Horses as prey animals and humans as predators are internally hard-wired to operate as polar opposites, leading to confusion and misunderstanding on many levels.    We can't expect horses to understand our language, but if we care enough, we can learn to understand and speak theirs.  When we do the horses begin to see us as an asset rather than as a liability – as a leader rather than as a control freak or a push-over.  And everything starts to improve, for them and for us.
For individuals looking to improve their relationship with their horse(s) and address specific issues – groundwork or riding, Chris offers a number of Weekend Horsemanship Clinics in various locations in North America and Europe, as well as 1 to 3 days at a time of Private and Semi-Private clinics, sometimes in conjunction with Train The Trainer Sessions or as stand alone clinics.  (See "Events" for this year's clinics).
These clinics offer a wide range of education and instruction for English or Western riders, drivers or people who just want to develop their ground skills around horses.  They are also excellent for trainers-in-training looking to improve their skill levels by either bringing their own horse or, if available, leasing a horse they are unfamiliar with from the host clinic facility.  To focus on just one horse for two days of work can produce dramatic results, and allows those keen on gaining this level of competency to really hone their diagnostics and technique, both on the ground and in the tack.